REBEL ARMY OF MILITANT SHEEP
RANDOM ACCESS MEDIA SYSTEM
Alf Altendorf – Margarete Jahrmann – Isa Rosenberger
---
MARCH 92 AV–VIDEO–PRÄSENTATION, WOOLY AWARD, SALZGRIES, VIENNA
MARCH 92 START OF THE BROADCASTING OF RAMS–RADIO , WEDNESDAY 8 PM, 103,3 MHZ
MAY 92 JUST A MINUTE", PALAIS LIECHTENSTEIN, VIENNA
JUNE 92 "RAMS OCCUPIES THE PLANET", NOISE–EVENT UNIVERSITY OF APPLIED ARTS VIENNA
JUNE 92 "RAMS–CAFE", WAHRINGER STRASSE, VIENNA
JUNE 92 "RADIO INTERACTIVITY", ACADEMY OF FINE ARTS, VIENNA
AUGUST 92 "COLLECTIVE RADIO", PROGETTO CIVITELLA DAGLIANO, ITALY
DECEMBER 92 VIRTUAL DEPARTMENT, PARADISO, AMSTERDAM, NETHERLANDS
JUNE 93 "SPRENGSTOFF SUPAKLASS", TREIBSTOFF SUPERNORMAL, GASSTATION SALZBURG – TAMSWEG
JUNE 93 "ATTAC", AUTOMATIC RADIO, ARS ELECTRONICA, LINZ
1994 "TOD DEM FERNSEHEN", USA – AUSTRIA, VIDEO / CDROM (coop Max Moswitzer)
---
R.A.M.S. Album

---
R.A.M.S. IS A LABEL WHICH STANDS FOR AN "USER–CONTROLLED–SYSTEM"
THE RESULT IS CONSTANT CHANGE OF CONTENT IN EACH WORK, ON EACH LOCATION AND VARYING USERS.
AN IMPORTANT STEP IN PROCESS IS THE CONSCIOUS "OCCUPATION" OF SITUATIONS, WHICH REMAIN UNCHANGED BUT WHICH IN THEIR IDENTITY ARE SUBORDINATED TO THE LABEL.
THIS REPRESENTS A REVERSAL TO COMMON CURRENT MEDIA IDENTIFICATION PRACTICE:
CUSTOMERS AND SPONSORS USE ECONOMIC INTERDEPENDENCIES AND EXPLOIT CREATIVE WORK.
THE DEVELOPMENT OF PARAIDENTITIES IS PART OF THE PROGRAMATIC INTENTION, SAME AS THE BORDERWALK IN THE USE OF ALL AVAILABLE MEDIAS BETWEEN ART–ADVERTISING–LOGOCULTURE.
SEARCH, DON'T DESTROY,
RESEARCH, BUT REDEFINE!
---
Name Background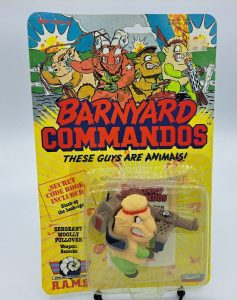 The name R.A.M.S. was a rip-off of a toy line by a company called Barnyard Commandos. We bought one of these toys in N.Y.C. in 1991 (issued solely in the states and were a complete flop – They flopped, but they were cool….
The story goes like this (description of the toy line):
"Barnyard Commandos certainly gave George Orwell a run for his socialist politics, presenting the world with an animated, anthropomorphic situation to rival the classic Animal Farm.
This wacky animated series used the barnyard as a battleground for an all-out war between pigs and sheep. Each rival fraction spoke a secret language that the enemy could not understand. The sheep would yell "Waab-allow in maab-ud, paab-igs!" in a language called Baa Code,  whereas the pigs, spoke – you guessed it – PORK as"Ull-pay the ord-cay!".
Leading the band of warring livestock were the decorated pig Sgt. Shoat N. Sweet, Sgt. Hammond Egger, and others. The sheep were led by the inimitable Major Legger Mutton and Commander Fleece Cardigan.
The war between the P.O.R.K.S. (Platoon Of Rebel Killer Swine and the R.A.M.S (Rebel Army of Militant Sheep) was never serious, focusing more on insults and pop culture spoofs than any real combat. Using their secret codes, the two sides fought to find the location of the great secret, waging a harmlessly silly war that no one ever seemed to win.
The war actually only lasted four episodes, as the Barnyard Commandos miniseries never turned into a fully-fledged series. Still, one can only wonder how much wool was needlessly shed. If only the focused farm warriors had realized that after all the slop and mud that had been slung, there was not much difference between a pork chop and a lamb chop after all."